Chocolate Christmas Wreath Kit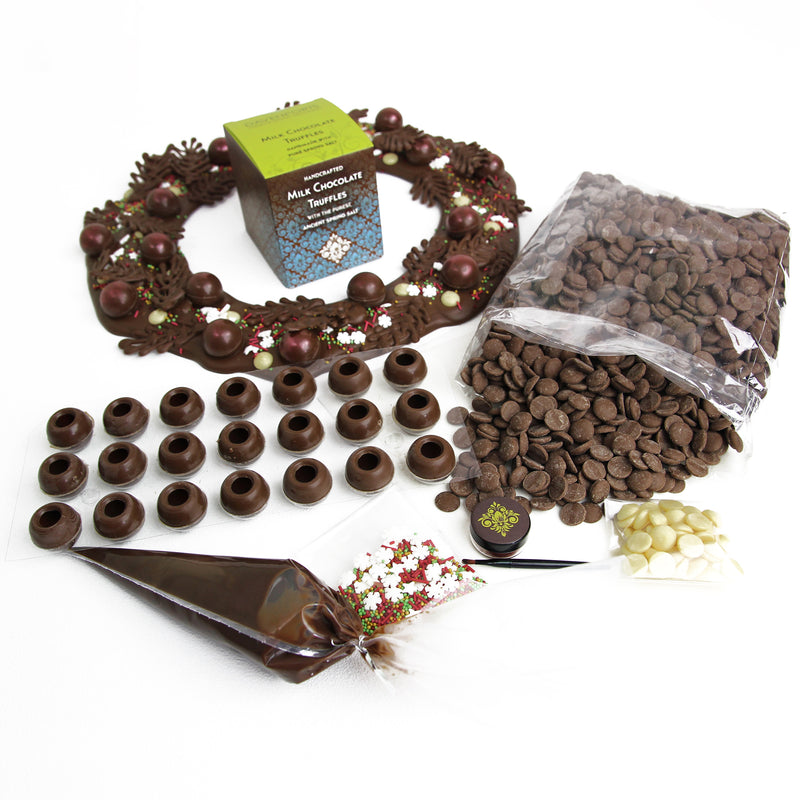 Chocolate Christmas Wreath Kit
This unique chocolate kit is perfect for any chocolate lover. Enjoy creating your own edible Christmas Wreath as a Christmas centerpiece. Suitable for a chocolate enthusiast, but no previous chocolate skills necessary.
Using over a kilo of their house blend of milk or dark (vegan) chocolate, enjoy these professional ingredients to take your chocolate experience further. With step-by-step guidance from head chocolatier Jane Williams, you will create your chocolate wreath structure, and enjoy using your creativity to arrange and decorate it with ganache truffles, chocolate shapes, sparkle, and sprinkles. You can master techniques of tempering and piping professional couverture with the enclosed instruction manual, or with a website link to Davenport's video tutorial. Artisan chocolates to eat-while-you-create also provided!
Vegan/Dark chocolate version is available, please select from the drop-down menu.
Included in the kit:
Large bag of chocolate callets (chocolate buttons to melt)
21 x Hollow chocolate spheres (to make truffles with)
Ganache Truffle Mixture
Piping bags, greaseproof paper, design templates
2 x bags of decorations
Sparkle powder and small brush
Printed instructions, and a link to a video tutorial
A surprise gift! Some chocolates from Davenport's Chocolates to eat while you create!
Further Details:
You can choose how big or small you make your wreath, but the one pictured here is 35cm in diameter.
The Milk Chocolate Kit will include a milk chocolate surprise gift, the Vegan Dark Chocolate Kit will include a vegan dark chocolate surprise gift.
These kits can be stored at home for up to 4 weeks, but the Ganache Truffle mixture needs to be taken out and stored in the fridge. Once it has been created, your chocolate wreath kit needs to be kept in a cool place, and will have a shelf life of 2 weeks.
Please pre-order your kit bearing this in mind if necessary, we can dispatch this kit at a time to suit you.
Created by artisan Chocolatier Jane Williams, these chocolates are made by hand in small batches, each one hand-decorated and unique. Along with her assistant chocolatier Jenny, they happily spend many hours making truffles, caramels, fondants, jellies and more, coating them in chocolate couverture with an antique 'enrober' and packing them in beautiful gift boxes.
____
Storage: Store in a cool dry place, away from direct sunlight.
Shelf life: 1 months.
Accompanying videos on Chocolate TV
All our Chocolate Kits have instructional demos by Head Chocolatier, Jane Williams. Jane leads you through each part of the process of working with chocolate, so you're supported each step of the way. We love craftsmanship, creativity and chocolate and we're sure you will too.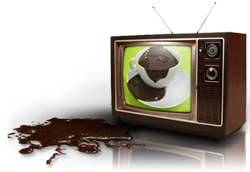 Milk Chocolate (Sugar, Cocoa Butter, Whole Milk Powder, Cocoa Mass, Emulsifier: Soya Lecithin, Natural Vanilla Flavouring), Dark Chocolate (Cocoa Mass, Sugar, Cocoa Butter, Emulsifier: Soya Lecithin, Natural Vanilla Flavouring), White Chocolate (Sugar, Cocoa Butter, Whole Milk Powder, Cocoa Mass, Emulsifier: Soya Lecithin, Natural Vanilla Flavouring), Butter (Milk), Gold Sparkle Powder (E171, E172), Sugar, Maize Starch, Vegetable Oils (Coconut, Shea), Concentrates (Radish, Safflower, Spirulina, Lemon, Carrot, Apple, Blackcurrant, Hibiscus), Potato Starch, Glazing Agents (Shellac, Beeswax), Colour (Titanium Dioxide), Stabiliser (Acacia Gum), Caramelised Sugar Syrup, Tapioca Starch, Salt, Flavouring, Lemon Juice Concentrate.
Allergy advice: For allergens, see ingredients in Bold.
____
Nutritional information:
____
Minimum Cocoa Solids: Dark Chocolate 54.5%; Milk Chocolate 33.6%; White Chocolate 28%.
Minimum Milk Solids: Milk Chocolate 20.8%; White Chocolate 22%.